Equine Comfort Products

Equine Comfort Products is unsurpassed in quality, design and utility. Manufacturing since 1984, ECP has established their company as the premium supplier to the equestrian customer. Australian Merino Sheepskin Pads and Accessories As always Mother Nature knows best there is no man-made material that can equal the therapeutic benefits of sheepskin. Benefits include: lightweight, breathable shock absorption; total relief from pressure points; complete elimination of chafing sores and rubs; effective heat and moisture management.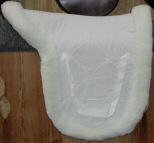 The saddle pads that we carry from ECP are the contour pads and the half pads. The contour pads are available in Jumping or Dressage. They are fully lined underneath with ECP's 100% Merino Sheepskin. The fully lined pads offer maximum protection under points of the tree and panel.


The half pads are also all fully lined and are available in several different style options. The Deluxe Classic Half Pad is the standard sheepskin half pad with a high wither design that eliminates pinching and/or rubbing in the gullet of the saddle. The Correction Half Pad offers all the same great benefits as the regular half pad but also includes four pockets and foam shims to provide a custom and secure fit. The half pad is also available in a wither relief option that features a wither relief cut out that relieves pressure points and eliminates chafing sores and rubs.

The Air Ride All Purpose Pad features ECP's TPE foam which helps prevent slipping against your horses back and keeps the saddle in place. It is shaped with hundreds of small ventilation holes for comfort and to prevent excessive sweating.