Status:
Available for order
---
---
Product Description
•••••
MV Fastuds
From the maker of the original MV PoP studs, the
MV Fastuds
fast, easy and affordable. The self cleaning thread saves you a ton of time, simply remove the plug and screw your stud in. Available in soft or hard ground with hardened tungsten stud ends for more resistance. Whitworth 3/8" tread. Please see the chart below for pictures and more information on each individual stud available.
Please note that the studs are silver color, not gold as shown below.
If you just can't decide which stud might be right for you, try the
Fastuds Kit.
Also available in the Fast stud Key for $24.95. The Fast Stud Key is a screwing key plus a magic drill and pin to clean the holes.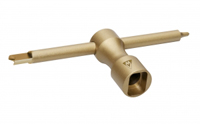 Soft Ground Designs

Product Number

Protrusion

Picture

SG9

Protrusion 9 mm.

**Please note that studs are SILVER not Gold**

SG13

Protrusion 13 mm.

**Please note that studs are SILVER not Gold**

SG 17

Protrusion 17 mm.

**Please note that studs are SILVER not Gold**

SG 21

Protrusion 21 mm.

**Please note that studs are SILVER not Gold**

Hard Ground Designs

Product Number

Protrusion

Picture

HG6

Protrusion 6 mm.


**Please note that studs are SILVER not Gold**

HG 10

Protrusion 10 mm.

**Please note that studs are SILVER not Gold**

HG 14

Protrusion 14 mm.

**Please note that studs are SILVER not Gold**

HG 16

Protrusion 16 mm

**Please note that studs are SILVER not Gold**