Runs Through
Monday, December 2 at 11:59pm ET
50% Off All Bargain Basement Items
with NO ORDER MINIMUM*


Enter Coupon Code
THANKS
at checkout to activate your savings on items in our Bargain Basement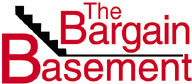 Please read the important terms, conditions and exclusions below before placing your order with this coupon. Here are the highlights:
Enter coupon code THANKS at checkout to save 50% on items in the Bargain Basement. You must use the coupon code to activate the savings.
* Our website has a standard minimum order of $10.00, which is still in effect. Apart from this, there is no minimum order threshhold to qualify for the 50% Bargain Basement savings.
All sales final when using the 50% off coupon.
Savings apply only to in-stock items listed on our website. Out-of-stock items (even if shown on our website) will not be backordered. Items in our Bargain Basement are subject to prior sale.
Your savings will be shown before you complete the order. Items not in the Bargain Basement may be ordered at the same time, but the 50% discount will only be applied to Bargain Basement items. Discount does not apply to shipping charges or (for Virginia residents) sales tax.
The savings are off our already low prices shown on our website. Some Bargain Basement items are already discounted 50% or more. Your savings are on top of this!

You are welcome to share this coupon with others. Please feel free to post it on bulletin boards, newsletters and other places where interested people might find it.
Important Terms and Conditions (The Fine Print)
The 50% off coupon is limited to in-stock items only.
Coupon may be applied only to qualifying items purchased during the sale, and may not be applied toward prior purchases.
*The 50% off coupon will only apply to items listed in our Bargain Basement category. Items in your shopping basket that are not in the Bargain Basement category will be charged at the price shown on our website.
All sales using the 50%-off coupon are final. At these prices, we cannot accept returns or exchanges, unless an item is defective. If you want the option of returning or exchanging something or want to backorder it, do not use the coupon. If you want the option to return or backorder a part of your order, place a separate order for these items without using the coupon.
The coupon applies to Internet orders only, no phone orders. If you have a gift certificate redemption code that would normally be entered in the coupon code box at checkout, please mention it in the comment box.
Coupon is valid through 11:59pm Eastern Time on Monday, December 2, 2019. For international customers, Eastern Time is GMT/UTC -5 (the same time zone as New York City).
If you need delivery by a certain date, then choose expedited shipping and do not use the coupon. Do not choose 2 day or 3 day shipping when using the coupon because with the holiday shipping schedule we cannot guarantee that the order will be filled immediately upon placement.
You can save 50% in-store, too! If you are near our Broadway, Virginia showroom, we will be open for walk-in customers from 9:00 AM to 4:00 PM on Saturday, November 30.