Cavallo Simple Boots
Code: CSBTS
---
Status:
Available for order
---
---
Product Description
•••••
Cavallo Simple Boots
Simple to measure, Simple to fit, Simple and Fast to put on and remove. Simple Hoof Boots provide comfort for your horse, whether it's simply for a ride on terrain to which his hooves are unaccustomed or protection over gravel or rocks or added security on slippery pavement. Simple Boot is the Multi-Purpose Hoof Boot. These boots are made for walking, trotting, jogging, jumping and just having a great time.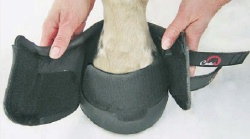 See size chart below. Available in Black and sold in pairs. Other colors are available by special order. Please call for more information.