Dressage Test Heads-up Display
Code: DTHD
---
---
---
Product Description
•••••
Dressage Test Heads-up Display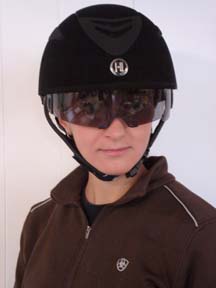 Amazing new product exclusively from VTO Saddlery! Never stress about forgetting your dressage test again. Our exclusive heads-up display projects your dressage test onto the built-in visor of the helmet (see photo-like illustration above). You can see it, but nobody else can. The display also provides a description of the movement, including gait.
The on-board computer (not shown) contains all current USEF dressage tests, including eventing tests.
Other key features:

Helmet is ASTM approved.
Built-in GPS navigator continuously calculates your position to within 5 meters (and be honest - when was the last time you were within 5 meters of where you should have been?)
Reminds you to salute.
Looks positively BAD A$$. Trust us, nobody's going to mess with you when you've got this headgear on.
NASCAR drivers have them. Navy fighter pilots have them. Now it's your turn. Only today, and only from VTO Saddlery.
COMING SOON! Heads-up goggles for your horse. Now your horse will be able to see what's coming, too!
Note: This product is not currently available. Please call for availability before ordering.