EquiLashes
Code: EQUILASH
---
---
---
Product Description
•••••
New! EquiLashes™ Fake False Faux Equine Eyelashes
SPECIAL BUY-ONE-GET-ONE OFFER TODAY ONLY!
Today only, when you buy one for the price of two,
we'll GIVE YOU a second set of EquiLashes™ for FREE!
Another VTO Saddlery exclusive, EquiLashes™ are a truly innovative development in show-ring refinement, and fill a much-needed void in your grooming kit.
Let's be honest. You spend hours working on your horse's tail - spraying it, combing it, pulling it, maybe even braiding it. Not to mention the unmentionable stuff you pick out of it. And it looks GREAT! (The tail, that is. Not the unmentionable stuff.) Your horse might even be sporting a tail extension. But how much time do you spend at the other end of your horse? Are you really doing all you can to make her look better than the other horses at your barn?
If you've been searching for the perfect way to one-up the princesses at your barn, your wait is over. VTO is pleased to announce the exclusive, limited-time introduction of EquiLashes -- the only first latest false eyelashes specifically designed for your equine partner.
Easy to use - simply peel and stick! The mostly non-toxic* adhesive is pre-applied to the base of each individual EquiLash. Position it on your horse, and PRESTO! - one lash down and only 45 to go**. Repeat for the other eye, and sit back and marvel at the transformation: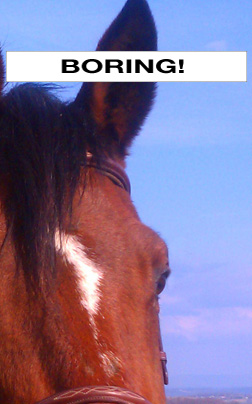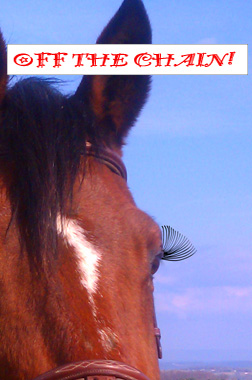 Will EquiLashes guarantee a win at your next show? Obviously we can't say that. But it probably won't guarantee that you'll lose, either. And let's face it: for most of you that's progress. But don't take our word for it, listen to what actual users might say:***

"EquiLashes have made all the difference for my mare. Apparently EquiLashes are a minor eye irritant, and when Primadonna's eyelid went into spasms, the judge thought she was winking at her. How cute is that? We actually placed in the top three-quarters of the class for the first time!"
- Georgina Moritz
"EquiLashes look great on any horse (but best on mares), and are extremely durable. Once you stick them in place, you don't have to worry about them falling out. And, at the end of the show season, our veterinarian only charged $180 to remove them. The prognosis is good, and we expect her to regain most of her eyesight."
- Name withheld pending lawsuit settlement
We expect these to sell out quickly, so get yours while they are still available!
*Not tested on animals. Which means we really don't know how it will react with horses. Avoid contact with eyes and skin.
**Actual quantity varies. We really don't have time to sit there and count eyelashes.
***If there were any actual users.