Equi Tape Elastic Kinesiology Athletic Training Tape
Code: ETEKATT
---
Status:
Available for order
---
---
Product Description
•••••
Equi Tape Elastic Kinesiology Athletic Training Tape
Equi-Tape is the only elastic therapeutic tape created specifically for the equine athlete. Human Olympians, professional athletes as well as weekend warriors have recognized the benefits of elastic kinesiology tape for years, and now Equi-Tape along with special Equi-Taping methodology is being made available to the equestrian community.
Equi-TapeŽ can be used to successfully treat a wide range of equine conditions and helps give support and stability to joints and muscles while at the same time allowing for full range of motion. This specially designed tape can be used to help rehabilitate equine injuries, helping horses become sounder sooner thereby becoming an important resource in equine sports management.
Some of the great benefits of Equi Tape include:
Reduces Inflammation and Associated Pain
Decreases Muscle Spasms
Increases Circulation
Excellent for Swelling and Edema
Supports Ligaments, Tendons and Joints
Non-medicated Treatment
Safe to use * Affordable * Non-restrictive
Use with other Treatment Modalities
Provides Joint & Muscle Support and Stability
Helps with Injury Rehabilitation
All Weather Tape -- Stays on in Water, humidity and cold weather
Supports Full Range of Motion
Latex Free for Sensitive Skin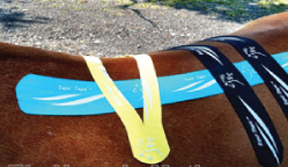 Please Note: Equi Tape instructions are not a substitute for professional veterinary advice or the services of a qualified taping practitioner. You should consult a professional for best results or with questions.
Sold in a roll. Available in Black, Yellow, Red, Pink or Blue.